CONSTRUCTION WINS WITH SOLID TRANSPORTATION PROVIDER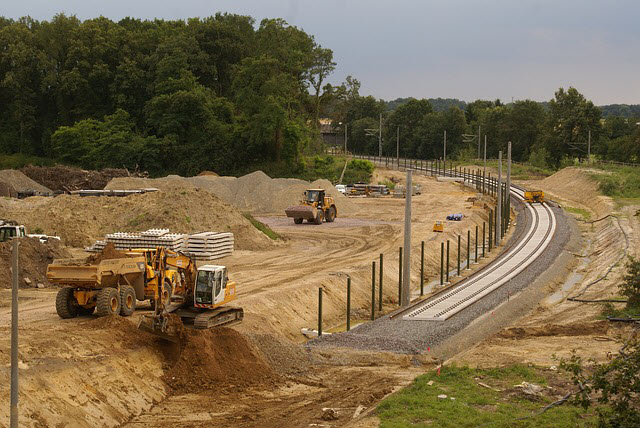 With the spring finally breaking, construction is in full swing. As projects move along, there are many things that can affect the cost of a project. Client change orders, specialized equipment and on-time deliveries.
Contractors rely on transportation providers who play a critical role in hauling cement, aggregates, lumber, and other building materials to and from a project site. What happens when a shipment of steel or lumber doesn't arrive on time? Or, if there is a delay in the arrival of an oversized piece of equipment that wasn't permitted correctly and failed to arrive at the job site? The job stops, the contractor loses time and money with each passing hour.
These are some things that can affect a timely delivery that are beyond anyone's control:
Highway accidents
Road construction backups
Mechanical breakdowns
Communication from beginning to end is key to On Demand Transportation's success. From pickup to delivery we are in continuous communication with our clients and our drivers every step of the way. If there is something unforeseeable such as a traffic accident, we notify the client of the delay in real time, not when the driver shows up late. This allows time for the client to make any adjustments necessary to account for the unexpected delay.
Because restrictions vary by state and can change without notice, transporting oversized loads and specialized equipment requires special attention to detail. These loads can be particularly challenging for individuals that are unfamiliar with The Department of Transportation's rules and regulations.
A transportation provider practices extreme due diligence in order to keep up with these changes. For example: height and weight restrictions, permits, escorts, route surveys and hours of operation just to name a few. When executing an oversize shipment, our attention to detail is second to none.
Specialty trailers are typically utilized for transporting your odd sized or unique equipment. Depending on the load and type of material transported, some clients may require tarping. Each client is different in the requirements and it's important that transportation companies do their best to accommodate these requests. Customer service and delivery in the details are some of the reasons a carrier is chosen for a job.
At On Demand Transportation, we work hard 24/7 to provide the highest level of customer satisfaction with quality workmanship, extraordinary professionalism, and friendly customer service. Call 724-903-0309 or email poleary@odt247.com to experience the difference. You have nothing to lose and peace of mind to gain in working with a reliable transportation provider that offers ongoing communication throughout your delivery process.
About the author: Patrick O'Leary, President and Owner of On Demand Transportation, a full service, privately owned, asset based transportation provider specializing in truckload and LTL (less than truckload) shipments. No load is too big or too small. We can move your freight from beginning to end. Our transportation experts provide personalized service 24 hours a day, 365 days a year! Demand the Best… with On Demand Transportation!
Providing personalized service 24 hours a day, 365 days a year! Demand the Best... with On Demand Transportation!